---
I read online that Sony PS gaming headsets would be given a Destiny audio profile, much like TLOU, Watch_Dogs and inFAMOUS Second Son, so since yesterday I was looking for it. I was excited, because I own a Sony Pulse Elite Edition wireless headset. While it was originally intended for the PS3, Sony had always made it back-compatible with the new PS4 game profiles, even though it was not as new as their Gold headset.
There was indeed an update to the Headset Companion App to download yesterday, but when I checked it, there was no Destiny profile. I figure it was still somewhere in the pipeline, so I just kept checking back every now and then for it to be released. As of this afternoon, still nothing.
Then I got an idea and checked on the Gold headset profiles, and whaddaya know:
Now why would Sony shut out loyal users like me? It doesn't make sense. The other games have their own profiles for the Pulse Elite, why not a Destiny Pulse profile now? Is that so much to ask?
Kainez!
---
---
I got it this morning; was at the Gateway branch of DataBlitz when it opened at 10, and I got it fresh and straight out of the big box it was shipped in.
I actually couldn't sleep much last night. Pathetic, losing sleep over a game. But that's how the ball bounces. I tossed and turned and got up several times, trying to get sleepy by dicking around on the computer or watching anything on TV.
Must've slept a couple of hours tops.
Why the Gateway branch, you ask? Not the SM Cubao branch where I usually go?
Well, I'll tell ya.
I went there because Gateway has a big raffle where they're giving away gadgets, including MacBook Airs, tablets, hard drives and a whole of Back To School gear. Every P500 purchase gets you a raffle ticket. More chances for me to win, I thought. Hey, with my financial situation, I'll take anything.
Got home a little before lunch, and I've been playing since. Seven hours straight. Level Five now, and getting close to Six. Took a break because my headset and controller needed it; they were losing power. And besides that, my arms were aching; I think it's the way I hold the DualShock 4. Too tense.
The DLC isn't ready for download yet; been trying on both my Asian and American accounts, and zip. Maybe later. So is the audio component of the game. They had an audio profile for Destiny for the Sony headsets, but I'll be damned if I know where it is. The Headset Companion App had an update this afternoon, but when I checked for the Destiny profile, it still wasn't there. Like the DLC, maybe later.
Ok, my arms ache less now. And I think the controller and headset have had a chance to recharge, however briefly.
Back to the game!
---
Ha.
It's finally going to be released tomorrow. I hope they have it DataBlitz, because I'm going to be pretty upset if they don't.
It's funny. Destiny was a game I was lukewarm about, and I almost passed up on it. Yes, I love First Person Shooters, but Destiny seemed too much like Halo, and God knows I've had my fill of that.
But when they had an Alpha test, then later on a Beta test, I was hooked big time. Now here I am, waiting with bated breath for weeks until the release. Which will finally come tomorrow.
There isn't really anything earthshakingly new about it. It's the usual shoot, get XP and level up until you can't level up any more. But somehow they have a seemingly fresh slant on things. The wide expanses of the battlefields, the multiplayer aspect, the massive arsenals available to your characters seem new and refreshing.
When I was playing the Alpha and the Beta tests, I was chomping at the bit, restricted by the Level 8 cap Bungie put on it for the duration of the test, something I achieved on the first day. I was relegated to playing without the ability to level up for the rest of the game time allowed. For a couple of hours on the Saturday before the test ended, they let us on the Moon for a frenzied battle session. I can't imagine what Mars and Venus will look like.
Tomorrow that all changes. I can finally play it without limits.
I can't wait.
---
(ORIGINALLY POSTED ON PhilMUG, SEPT. 4, 2014)
Ok. I made time today. Finally went to Big Daddy Jay's BBQ for lunch a while ago. They're open from 11am to 2:30pm, then again in the evening.
Funnily enough, on a weekday, I was the only customer there. I guess it gets more filled up in the evenings, although I can't really agree with their choice of venue. It's a bit out of the way—about five blocks from the main part of Araneta Center, right beside a Caltex station near the corner of 17th Ave and P. Tuazon. It has parking in front for precisely two vehicles, although it was a very tight fit because the smoking paraphernalia and air conditioners were also right there; you can park along the street, though.
The menu is a bit limited too, although it focuses on their speciality: smoked ribs. There were a few other starters, entrees and desserts, but pride of place was the ribs. BDJ's BBQ had already gotten some notice from Eats, ClickTheCity and WhenInManila, and had gotten awards from Hinge Inquirer and got Spot's 50 Best Restaurants of 2013 and Best Food of 2013 awards.
It was relatively expensive for the big orders, but the smaller ones were more reasonable. Yes, the full rack is P880, half-rack P450, and solo plate for P180. Since I was alone, guess which one I got?
The solo plate was enough for me. I can't imagine how a full rack would be—probably feed a group of four or five people. The dish came with some buttered rice (or you can choose between a limited selection of side dishes) and veggies, and a generous serving of their barbecue sauce, which you could ask more of if a serving wasn't enough.
The ribs were as advertised. The meat was soft and tender, with more than a hint of smokey flavor. It was excellent! I thought I could've done with an extra order of rice, but since I was already violating my diet restrictions this one time, I held off. The sauce was also fantastic: nice and tangy, with just the right kick, although the meat was so good I could've done without it, really.
For my drink order, I had a pleasant surprise; among other things like a nice choice of soft drinks and beers (including some Stella Artois), they had some cherry Dr. Pepper! It cost P45, which was reasonable considering the other more common drinks were P40. Hadn't had that one for a long time! I resisted ordering dessert, though: that key lime pie sounded good. All told, my lunch cost me just P225.
Big Daddy Jay's is a nice, intimate place, and has fantastic smoked ribs. I'll be sure to come back and drag family and friends along!
---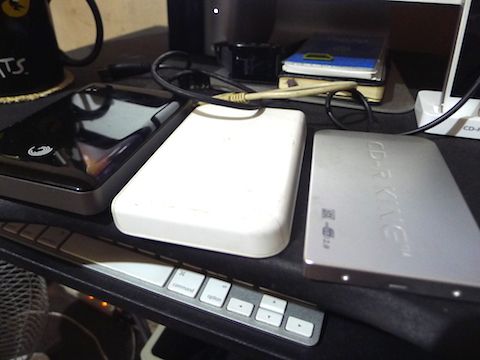 On the heels of trying to revive my 2TB GoFlex Desk (which is still being low-level reformatted under Windows, in the hope of kickstarting it back to normal), I thought I'd get together my other external hard drives and put them to good use. I used to have a bunch of them before, but now they've dwindled to three: two 500GB drives, and a smaller (in size, but not in girth) 160GB.
I already had four external drives being used in my iMac: a 750GB USB2 drive, a 1TB FireWire 800 drive, a 4TB NAS (these three were all connected to my computer), and the aforementioned 2TB drive which had unfortunately gone south on me and was undergoing recovery.
Actually, I've been mistreating my other external, smaller drives and relegated them to a desk drawer, all but forgotten. But the time has come to revive and repurpose these things.
So, in order, from left to right:
This one is the newest, which I got for a pretty penny, mostly because it has a built-in wifi radio in it. It's a GoFlex Satellite, only 500MB, but I originally got it as an accessory for my iPad. As I progressed in my tech journey, I dispensed with a lot of my gear, and this one was one of them. I reformatted it (as I did all of them, to be sure to have a fresh start), and copied my TV and Other Media folders from the 4TB Seagate Central. I couldn't very well back up the Movie folder: it's 2.5GB by itself. Those two folders took up about 250GB. Half full.
The second one is one of my oldest drives. You could tell by the fact that it was only 160GB. Yet it was also the hardiest. Still alive after all these years! I put in a backup of my OS X installs—Mavericks and Yosemite, plus the other Apple software that I used. That took all of 50GB. I still had 110GB left.
The last drive (500GB too) is one of the latest I have, and also the fastest—it only took a few hours to fill it up, whereas to half-fill the Satellite took more than a whole day. I originally bought it bare, and meant it to be a drive upgrade for my erstwhile PS3, but I couldn't get that damned 160GB PS3 drive out of its frigging caddy. So I bought an el cheapo enclosure from CDR-King and put it in there, and just kept it in the drawer. That one I filled up (and I do mean filled up—there was 470+ GB of my data backups in there).
Then I put them all back in the drawer again.
I figure I'd do this every quarter, just as a safeguard.
Sucks when you're not doing anything with your time, doesn't it?
---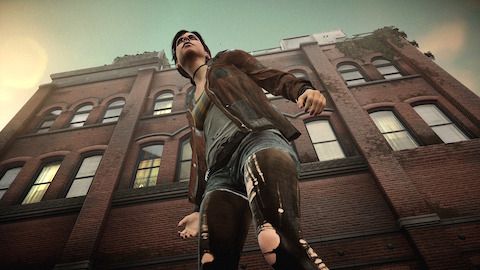 Finished inFamous: First Light this afternoon.
Short game, but I knew that going in. Which was why I was dragging it out for five days. Going by the info that the entire game playthrough is five hours, I figured I played an hour a day.
I even had time to produce three captures of my gameplay via ShareFactory, plus several screenshots.
But it's over now. Nothing left but the Battle Arena challenges, and maxxing out the city regions' liberation from the D.U.P. and the city's unsavoury elements.
Sigh. Well, at least Destiny will be released on Sept. 9. About ten days away.
Can't wait for that one.
---
---
---